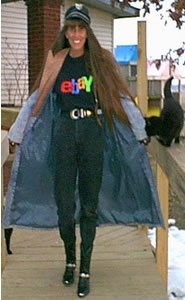 Hi, hiya, howdy! I'm Angie
God has gifted me with the talent to write . . . In my own way and with my "distinct" voice, but it is definitely God's gift. I want to use that gift for His glory. I'd like to thank God for the idea of this business and for raining down blessings upon me and mine.
I've written several novels and magazine articles before I was truly a Christian. I was a member of RWA (Romance Writers of America) for years and years. I've also worked as a reporter. When I'm not busy writing, computer teching, or attending more college classes, I design web sites. In between, I pray and am a mom and wife.
I live way out in the sticks in the Midwest with my husband of 20+ years and our 2 children, a girl and a boy.
Above all else, dare to dream. Be true to whom God created you to be. Be positive and never give up. Pray. God answers all prayer. He has a plan for your life. Smile! Have a truly blessed and GREAT day!
Check out true inspirational stories . . . Miracles Still Happen
Do you have an inspirational story you'd like to share? Something to give hope?
If you have a miracle or an inspirational true to life story you would like to share with the cyberworld, please e-mail me. I would like to add many true to life, nonfiction miracles to this site. God is real. Jesus can still heal. Miracles exist everyday. Nothing is impossible with Jesus!
Click to email me and submit your inspirational story - share your miracle with the world!

Do you think someone could live through this wreck? My hubby did. Would you like to hear the miracle behind this? Protective Hedge

This baby was born a month early, weighed 4.3 pounds. She underwent immediate surgery and lived against the odds. Miracle Baby

Coming Soon* - Web Site Designs